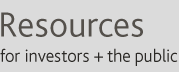 This project will help consumers and investors get the most from assessment systems
Assessment systems are tools and services that help point you to better buying and investment decisions.
Buyers and sellers both need them because some sellers say they're 'green' when they've done relatively little work to measure and improve their negative externalities on people, planet and community prosperity.
We shouldn't automatically blame them for making such claims. Very few managers have been trained to spot the most important things to measure and manage in their industries, or what techniques yield better outcomes.
Participate
Contact us if you know people who measure/manage their impacts and deserve kudos.
And if you like what you're learning here, tell your friends or get involved.
News you can use
That's why we're creating industry-specific news about assessment systems and best practices. This will empower consumers and it will position managers for better business cases and decisions.
What success
looks like
Innovators really do find ways to elevate people, planet
and prosperity.
Skeptical? Check this out
........................................
Our Media Project
Our events and documentaries are designed to show how innovators are re-shaping industry practices and building stronger communities for today and tomorrow.