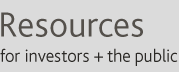 Learn how you and your friends can identify and support measurable progress
We believe that reward models are crucial to progress; responsible companies must consistently win before competitors will want to emulate their people, planet and prosperity outcomes.
But if you want to reward responsible companies, you may have a problem: if you don't know what you're looking for, they can be easy to miss.
Market forces don't work when buyers and investors can't tell the difference and don't know what to trust. It's a problem for both you and the responsible companies.
Why this matters
Your economy is stronger
– and more sustainable –
with healthy people, healthy natural capital, and local prosperity.
Learn how this project will elevate your community.
Assessment Systems
Assessment systems are tools and services designed to help you make better buying and investment decisions.
What success
looks like
Innovators really do find ways to elevate people, planet
and prosperity.
Skeptical? Check this out
........................................
Our Media Project
Our events and documentaries are designed to show how innovators are re-shaping industry practices and building stronger communities for today and tomorrow.