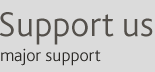 When you think about what projects to support, you think strategically; you apply your time and money to initiatives that make the greatest difference to your core mission.
In this project, we have a fresh approach to motivating cooperation; we build resources and legitimacy from all groups – from businesses, researchers, citizens and nations – and we support safe and constructive engagement where the parties can use a common language to answer questions that matter to people.
We are different in how our efforts are carefully crafted to improve public literacy and resolve some stalemates that hold us all back. You can elevate people, planet and prosperity—and see enduring value for your contributions
Contribute financially
Corporate and philanthropic support is crucial to launching the next generation of research and education.
Please contact us about planned or monthly giving.
Contribute staff time
Right now at the coffee machine, your staff are probably talking about the need for clarity. We all want constructive solutions. With us, they'll build skills that add value. Contact us