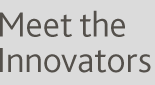 Whether they are
industry practitioners, researchers, NGO analysts or policy makers, Innovators connect the essential elements in order to elevate people, planet and prosperity.
Doing this is rarely easy.
But it will take exactly this kind of creative thinking to build stronger communities for today and tomorrow.
Are you an Innovator?
Have you got an industry track record of elevating all three dimensions? Or have you proven ways to improve just one? Contact us if you'd like to share your insights and accelerate progress.
Meet the Innovators
In the next pages, meet experts who teach what real and measurable success looks like—and gain from their perspectives. Get started
Our Media Project
Our events and documentaries are designed to show how innovators are re-shaping industry practices and building stronger communities for today and tomorrow.

Learn more
........................................
FAQ
Q: Do people pay for this recognition? A: No. But some do contribute to building our knowledge base so others can follow in their footsteps to real progress. Learn more